Navigation: Tools >> Setup >> Manufacturing >> Routing Import Map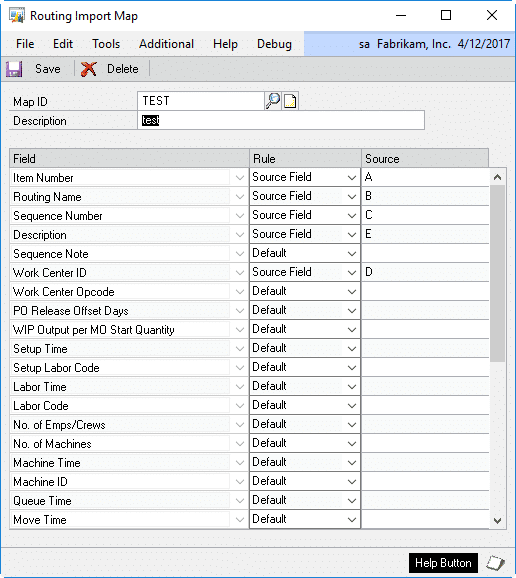 An Import Map is required. The Map provides instructions for Routing Import on how to create the Routing, what source fields to use from the Excel spreadsheet, and how to provide default values.
Map ID: Create an ID for the Map. You can create an unlimited number of Maps to support different file layouts.
Description: Enter a description for the Map.
Field Mapping: The Routing Field Map section for details on each field that you can import, whether or not it is required (meaning it must be in the import file or have a Constant), and what the default value is. If you map to a Source Field, put the Column Letter in the Source column. For example, if the Item Number is in Column A, put A into the Source field. If the Routing Name is in Column B, put B into the Source field. The Import Mapping tool cannot validate this information until you attempt to run the import, so careful setup is important.
14.
Routing Import Planning
Routing Import Planning
In general, Routing Import expects a file that resembles the GP Manufacturing Routing Lines table (RT010130).
For example, the Routing for CHAIR is shown below.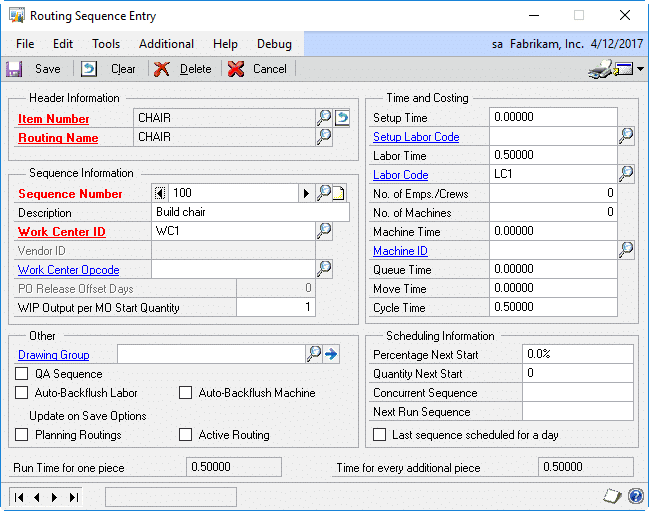 Exported to a spreadsheet, this routing would appear as shown below:

Routing Import will provide default values for most fields, with the minimum being the Item Number, Routing Name, Sequence Number and Work Center ID.
Towards the bottom of the field list are Revision Level, Routing Type and Primary. These are used when creating the Routing Header.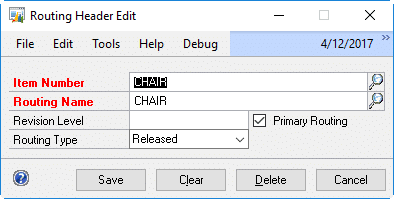 If any of these fields are provided in the spreadsheet, they must be provided on EVERY LINE of the routing.
Use of Op Codes is supported. An Op Code will populate the routing with information from the Op Code. See the Manufacturing documentation for more information about using Op Codes. The Op Code Note is not copied to the Routing.
Template Routings are not supported.