Item Label Setup is opened from the blue expansion arrow on the LabelLink Setup window.

A label can be linked to one or more Item Numbers. When a label is linked to an item, and that label is selected in the LabelLink window, the window will display only the Item Number(s) to which it is linked, which facilitates quickly printing item specific labels. See the LabelLink chapter for more information.
To set up item-label links, click the blue expansion button shown above.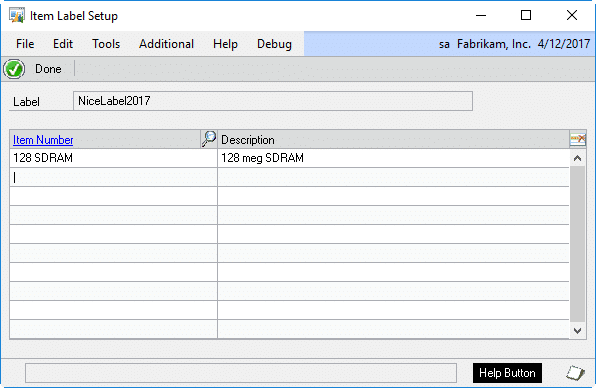 Add Item Numbers to the list to link them to the label.
It can be helpful to have one label that is not linked to any items which can be used to "display all" in the LabelLink window. If you have ONLY item-linked labels it can be difficult to view all items from a transaction in the LabelLink window.
NOTE: the "file" does not have to be an actual label report file. It could simply be a path to a text file, or path pointing to no valid file. An example is shown below:

If you use exclusively item-linked labels, the setup shown above will provide an option in the LabelLink window that will allow viewing ALL items. This should be used only for viewing purposes because attempting to print it will generate errors.