Adds an option to rolldown a site change on the RMA Entry/Update window to all of the lines on the RMA.
Setup
Navigation: Tools >> Setup >> Manufacturing >> MFG PowerPack Setup
Mark the box next to "TWK: SVC RMA Rolldown Site".
Click DONE on the MFG PowerPack Setup window. This Tweak will be active immediately for the current user. Other users will need to close GP, then log-in again to activate it.
Using SVC RMA Rolldown Site
Navigation: Transactions >> Returns Management >> RMA Entry/Update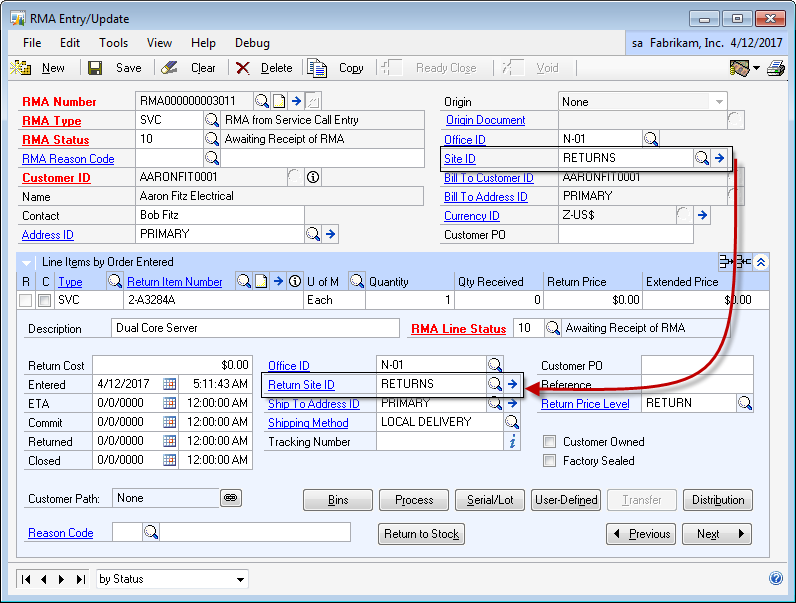 When this Tweak is enabled, and the Site ID is changed on the document header, you will be asked if you want to rolldown the change to the lines: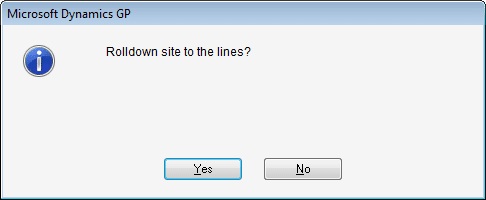 The new site will be rolled down to a line if:
If multi-bins is enabled, the new Site has a default SOP Returns bin
The Item-Site is valid
The Item is not a Kit
The RMA Line has not been received
When a new Site is rolled-down, it will rolldown to lines that can be changed, and the others will remain unchanged. The RMA Audit will reflect this change. If one or more lines could not be changed, you will receive a message alerting you of the condition.