Item Valuation Update is intended solely for the purpose of setting the valuation method of Service items so that they can be added to a Bill of Material. When adding an item to a BOM the system checks the Valuation Method of the Parent Item, since Service items by default have no valuation method, Manufacturing will not allow the Service item to be added to the BOM.
Setup
Navigation: Tools >> Setup >> Manufacturing >> MFG PowerPack Setup
Mark the box next to "Item Valuation Update", then click DONE.
All users must re-start GP to activate this feature.
Using Item Valuation Update
Navigation: Tools >> Utilities >> Inventory >> Item Valuation Update
Select an Item Number, pick the new Valuation Method, then click Save.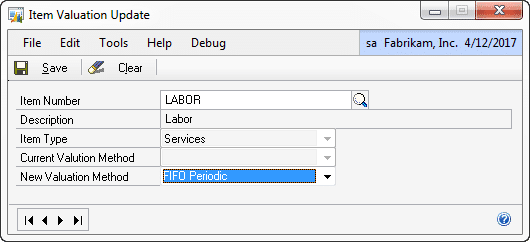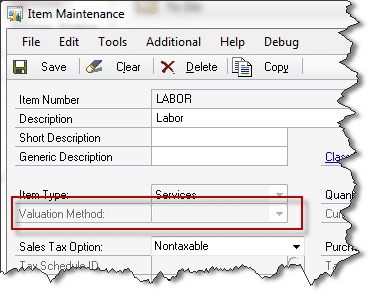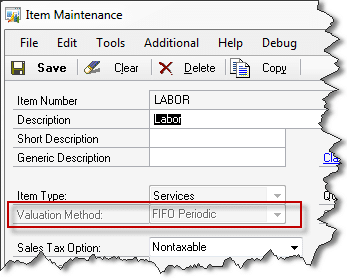 Before After
Set the Standard Cost for the Labor item in Standard Cost Changes (Cards >> Manufacturing >> Inventory >> Standard Cost Changes):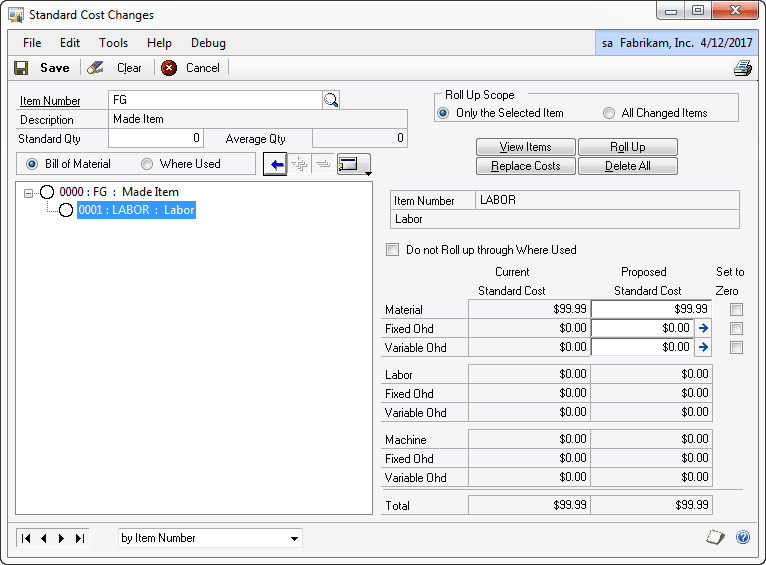 Select the FG Item, then set the Proposed Standard for the Labor Item at $99.99, and Roll Up and Replace Costs.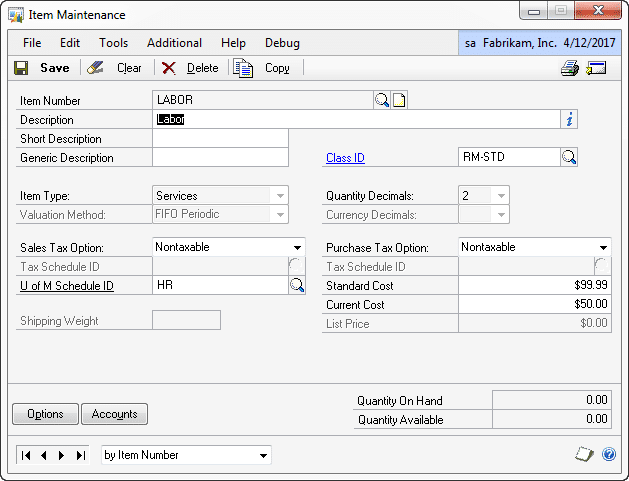 Item Maintenance shows the new standard cost ($99.99) and the current cost ($50.00). Normally these should be close, if not the same, but are set differently to highlight the effect of the cost variance in the following examples.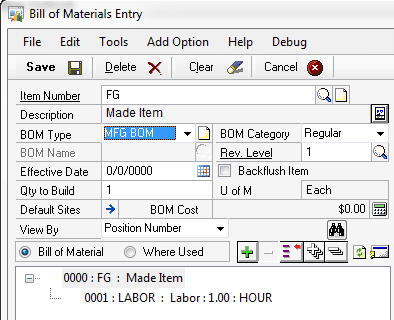 A simple BOM using the Labor Item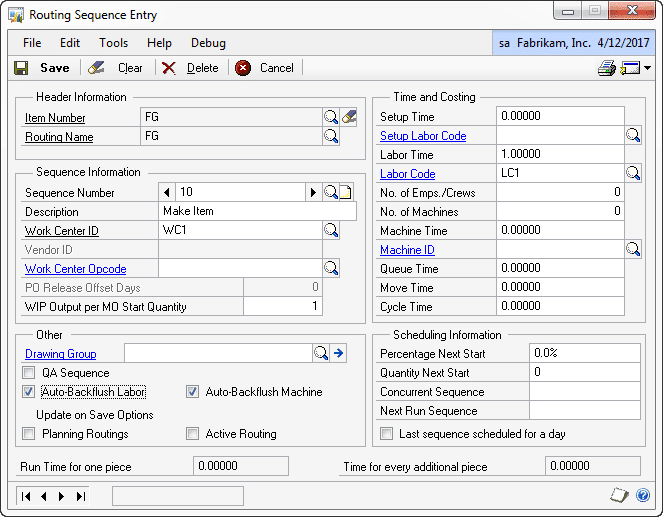 The Routing has one step, with 1 HR of per-piece labor, with a labor rate of $10/hr (no overhead values). Backflush Labor and Machine.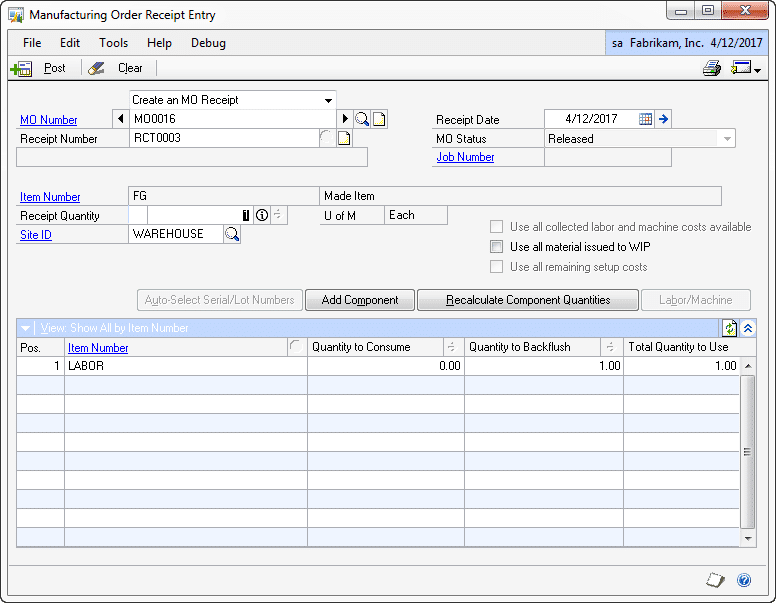 An MO for 1 unit of FG was created. The MO Receipt is above.
There is no Component Transaction for this MO because
there are no Sales Inventory components to issue.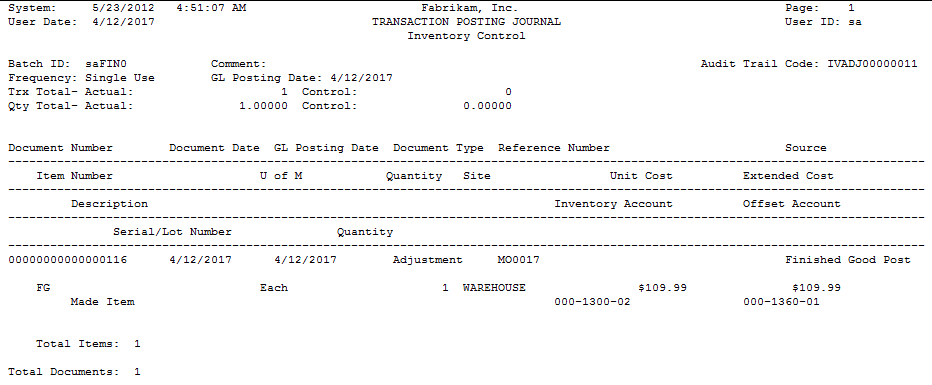 The FG posts at $109.99, which is the Standard Cost of the Labor item, plus 1-HR of Labor at $10/hr.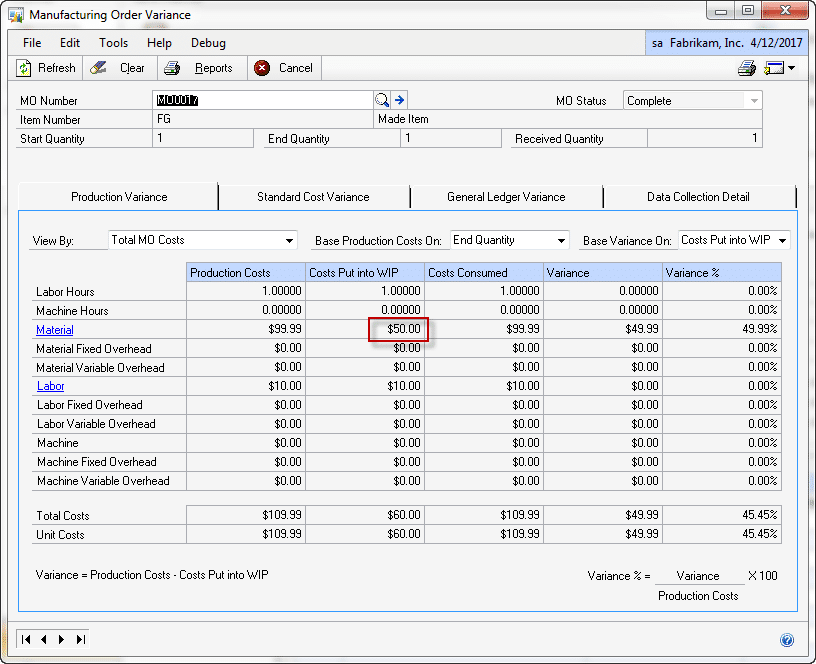 A Material Variance is created by the Labor Item posting because the Actual Cost is $50 and the Standard Cost is $99.99.