The Indented BOM Report uses Microsoft Excel to create a report of the entire exploded Bill of Materials, displaying subassemblies indented from their parents.
Setup
Navigation: Tools >> Setup >> Manufacturing >> MFG PowerPack Setup
Mark the box next to "TWK: Indented BOM Report*".
Click DONE on the MFG PowerPack Setup window. This Tweak will be active immediately for the current user. Other users will need to close GP, then log-in again to activate it.
The SQL Query used by the Indented BOM Report can be modified. To modify the query, double-click on "TWK: Indented BOM Report".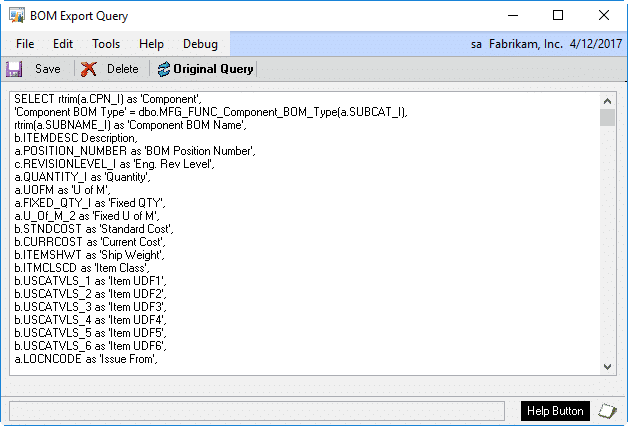 Original Query: click the Original Query button to display the query used by the Indented BOM Report. If you make modifications, you can always return to the original query by clicking the Original Query button.
Delete: deleting removes the modified query from the system. When the modified query is deleted, the Indented BOM Report will return to using the original query.
Save: saving stores the modified query. Once the modified query is saved, it will be used by the Indented BOM Report instead of the
The first three lines of the query must NOT be modified:

The table aliased with "a" is the BOM Lines table (BM010115). That table must not be removed from the query, and the alias must remain "a".
Any of the other columns selected by the query can be changed or removed. Additional tables and columns can be added.
Make the desired changes, then click SAVE to save the query.
Using Indented BOM Report
In Bill of Materials Maintenance, select a BOM, then select Additional >> Indented BOM Report
A sample export is shown below.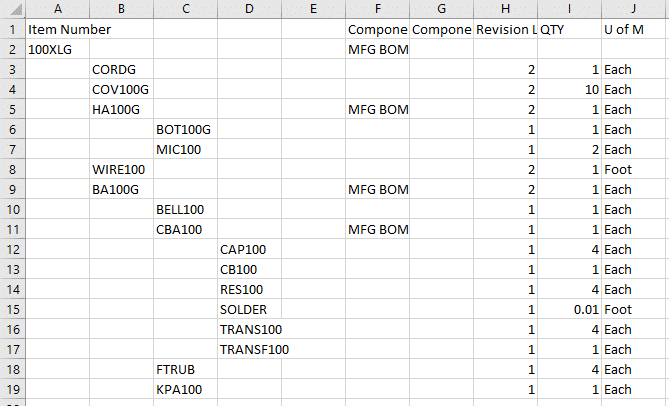 The Component Item Numbers are exported in an indented format, while all of the additional BOM Line information is shown in the columns to the right.