Posting Journal Settings provides control over whether or not Inventory, General Ledger and Cost Variance Posting Journals print from:
Manufacturing Component Transaction Entry
Manufacturing Order Receipt Entry
Manufacturing Order Close
Setup
Navigation: Tools >> Setup >> Manufacturing >> MFG PowerPack Setup
Mark the box next to "TWK: Posting Journal Settings*".
This Tweak requires additional setup. Double-click on "Posting Journal Settings*" to open the setup window.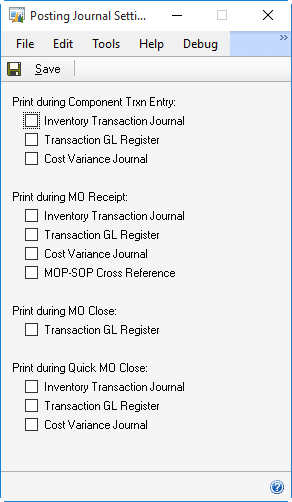 By default none of the posting journals will be marked, so none of them will print. Mark the posting journals you want to print, or leave all boxes unmarked so that none print during posting.
Click SAVE.
Click DONE on the MFG PowerPack Setup window. This Tweak will be active immediately for the current user. Other users will need to close GP, then log-in again to activate it.
Using Posting Journal Settings
When a Posting Journal is disabled, the Print Dialog box will no longer pop-up when posting a transaction.