The Series Post windows for Financials, Receivables, Payables and Inventory can be cumbersome to work with because there is no ability to restrict the display to certain types of batches. Often when batches are not posted to GL, there is a review process before posting, which might, for example, require reviewing all batches created during a week. The Series Post windows in GP require manually locating specific batches, marking them, and then posting.
The Series Post Filter window adds multiple search criteria with which to the list of available batches can be restricted. For example, if a user creates a Batch ID each day containing their User ID, Series Post Filter can restrict the display to show just Batches containing the User ID.
Setup
Navigation: Tools >> Setup >> Company >> Setup GP PowerPack
Mark the box next to MODULE: Series Post Filter
Click Done to enable this feature. Other users will need to restart Dynamics GP to enable this feature.
Using Series Post Filter
Series Post Filter is available from Financials, Receivables, Payables and Inventory Series Post. Select Additional >> Series Post Filter, or press CTRL + 1.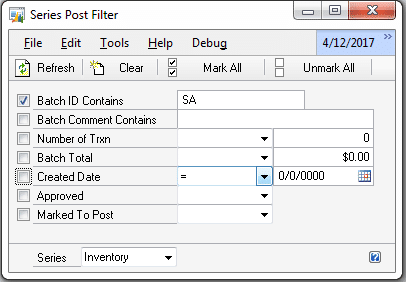 Mark a filter to use, then click Refresh. The Series Post window will redisplay to show only batches meeting the selected criteria.
MARK ALL will mark to post all batches that meet the criteria, and UNMARK ALL will unmark all batches that meet the selection criteria. You can repeat this process multiple times, adding more batches to post each time. Just enter new selection criteria, click Redisplay, then click Mark All to mark the batches.
UNMARK ALL will unmark batches based on the displayed selection criteria. If you clear the selection criteria, then click Unmark All, there will be no batches marked for posting.