Shortage Inquiry provides a list of documents in Dynamics GP that need inventory. Shortages are identified in SOP (Backordered quantities), GP Manufacturing (Picklist Shortages), and GP Field Service (Service Call Parts).
When inventory is received into the system, such as when posting a PO Receipt, Shortage Inquiry launches automatically to look for transactions the need the new inventory. If it finds a requirement, the Shortage Inquiry window opens displaying the document(s) which need the inventory.
Setup
Navigation: Tools >> Setup >> Company >> Setup GP PowerPack
Mark the box next to MODULE: Shortage Inquiry, then click DONE.
The feature will be enabled for the current user. Other users must restart their Dynamics GP client to enable this feature.
Using Shortage Inquiry
Shortage Inquiry is available from the Additional Menu on the following windows in GP that add inventory to the system:
Item Transfer Entry
Item Transaction Entry (positive quantity adjustments)
Bin to Bin Transfer Entry
PO Receipt Entry
MO Receipt Entry
It can also be opened directly via Inquiry >> Inventory >> Shortage Inquiry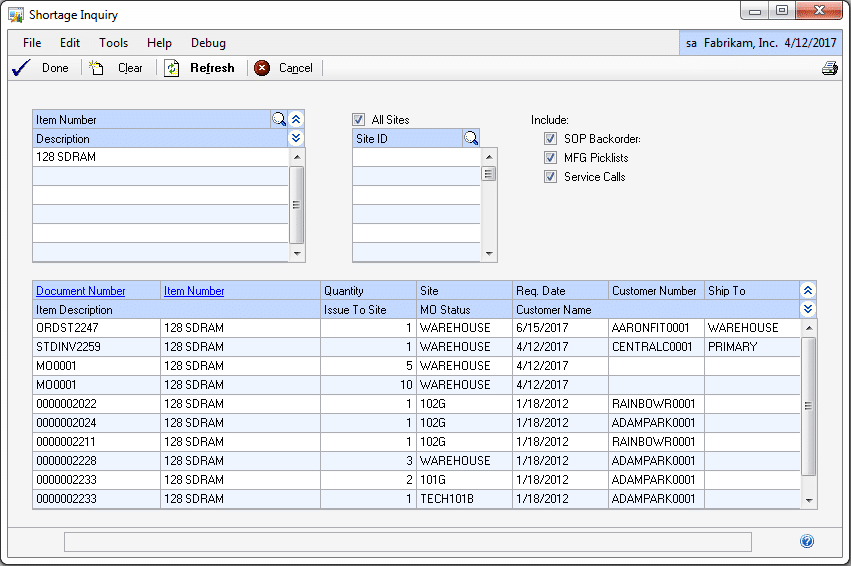 When a transaction is posted from any of the above windows, Shortage Inquiry will check if there are any transactions needing the inventory in the site where the inventory was posted. If it finds a transaction which needs the new inventory, Shortage Inquiry will open to display the shortages.
The Shortage Inquiry window provides zooms to the document entry window for the shortage document, giving the user quick access to those documents so they can allocate the newly available inventory. Select a row in the scrolling window, then click the blue "Document Number" zoom to open the document in a transaction entry window. For Sales Transactions, the scrolling window will be set so that the selected "short item" is displayed at the top of the window.
Shortage Inquiry is also available on the Item Inquiry Additional menu, where it will display shortages for the selected Item Number and Site (if a Site is selected).