In the Reconcile to GL window, the Start/End Dates validate the Start Date as soon as a date is entered. If the Start Date is after the End Date defaulted by GP, it generates a warning that the Start Date must be before the End Date. This Tweak automatically sets the End Date equal to the Start Date to prevent this warning message.
Setup
Navigation: Tools >> Setup >> Company >> Setup GP PowerPack
Mark the box next to TWK-GL: Reconcile To GL Date Validation, then click DONE.
The feature will be enabled for the current user. Other users must restart their Dynamics GP client to enable this feature.
Using Reconcile To GL Date Validation
Navigation: Tools >> Routines >> Financial >> Reconcile to GL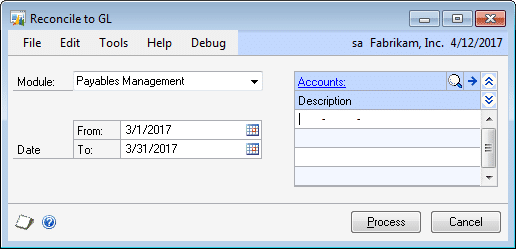 Normally changing the From Date from 03/01/2017 to 04/01/2017 would result in a warning message:

With this Tweak enabled, the To Date will automatically be set to the From Date after you change the From Date.