Enabling this Tweak makes adds an Additional Menu to Purchase Order Entry that will allow re-ordering the PO Lines to match the order in which the Items appear on a linked Sales Order. Also, if a PO is generated from Sales Transaction Entry, those lines will be automatically reordered.
Without this Tweak the PO Lines on a PO generated from a Sales Order will be alphanumeric order by Item Number.
Setup
Navigation: Tools >> Setup >> Company >> Setup GP PowerPack
Mark the box next to TWK-POP: Sync PO Lines to SOP
The feature will be enabled for the current user. Other users must restart their Dynamics GP client to enable this feature.
Using Sync PO Lines to SOP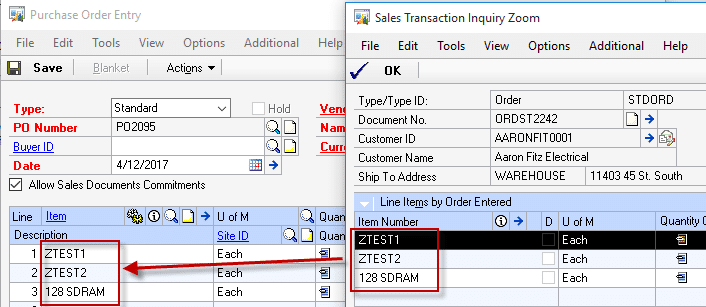 To reorder the lines on an existing PO, select the PO in Purchase Order Entry, then click Additional >> Sync PO Lines to SOP.
You will be asked to confirm you want to reorder the lines. Reordering the lines will not occur if the PO:
Has any received lines
Has any invoiced lines
Has any unlinked lines
Is linked to more than one Sales Order
Purchase Orders created from Sales Transaction Entry (Actions >> Purchase) will be automatically reordered as they are created.