The Receivables Cash Receipt Report adds a new report to Dynamics GP that prints documentation of a Cash Receipt for your customers. Dynamics GP does not otherwise have the ability to provide a Customer with documentation of a Cash Receipt.
Setup
Navigation: Tools >> Setup >> Company >> Setup GP PowerPack
Mark the box next to TWK-RM: Cash Receipt Report, then click DONE.
The feature will be enabled for the current user. Other users must restart their Dynamics GP client to enable this feature.
Using Cash Receipt Report
From the Cash Receipts Entry window select Extras >> Additional >> Cash Receipt Report, or press CTRL+R.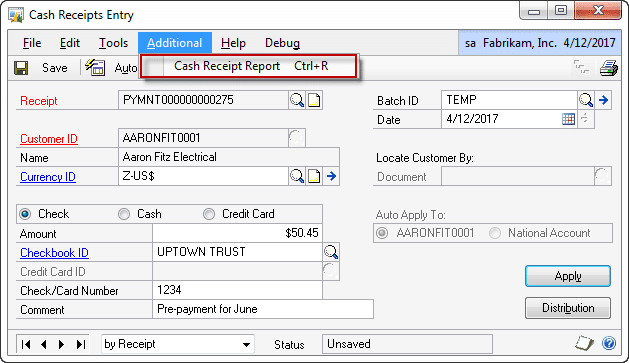 To run the report you will be required to save the Cash Receipt, so you must provide a Batch ID. If you will make frequent use of the Cash Receipt Report, and do transaction-level posting, consider creating a Batch called TEMP that is just used temporarily when printing the report. The Batch ID field would be cleared after printing, and the transaction posted.