Email History creates a log of who emailed a Sales Document, when it was sent, and provides a place for the user to record comments. It also adds a prompt to the Email Documents button so the user has a chance to confirm they are ready to email before the email is generated.
Setup
Navigation: Tools >> Setup >> Company >> Setup GP PowerPack
Mark the box next to TWK-SOP: Email History, then click DONE.
The feature will be enabled for the current user. Other users must restart their Dynamics GP client to enable this feature.
Using Email History
When the Email Document button is clicked, you will be prompted to confirm you are ready to generate the email.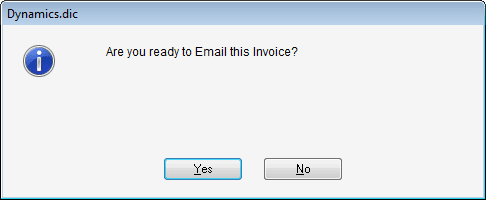 If you click yes, Dynamics GP will begin preparing the email, and the Email History window will open.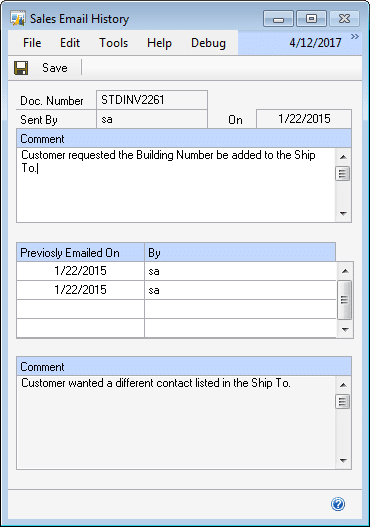 A comment can be added each time an email is sent to explain why it was sent/resent. The log of each email is visible in the bottom half of the window. Clicking on a "Previously Emailed" line will display the Comment for that line.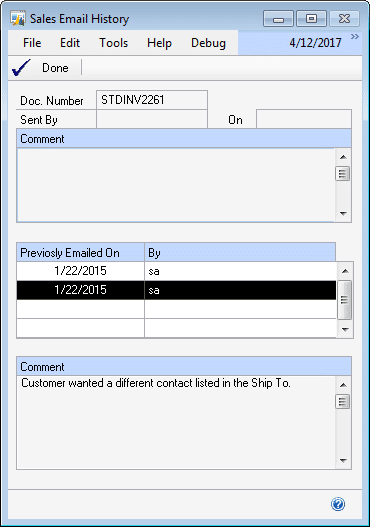 Sales Email History is available on both Sales Transaction Inquiry and Sales Transaction Inquiry Zoom via Additional >> View Email History.