The SOP Freight Field Controls will conditionally lock the Freight field on Sales Transaction Entry. Use this Tweak to prevent users from editing the Freight amount.
Setup
Navigation: Tools >> Setup >> Company >> Setup GP PowerPack
Mark the box next to TWK-SOP: Freight Field Controls*.
This item requires additional setup. Double-click on TWK-SOP: Freight Field Controls to open the SOP Freight Setup window.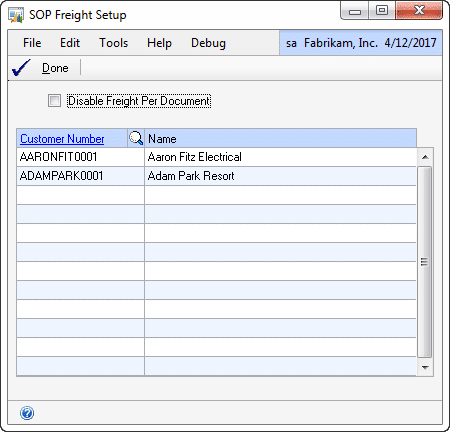 Marking "Disable Freight Per Document" will add an Extras menu option to Sales Transaction Entry that will allow you to lock/unlock the freight field for a specific document.
Any customer added to the "always locked" list will always have the Freight field locked. Even if Disable Freight Per Document is marked, documents for these customers cannot be unlocked.
Click DONE to save these settings. Then click DONE on the GP PowerPack Setup window.
The feature will be enabled for the current user. Other users must restart their Dynamics GP client to enable this feature.
Using Freight Field Controls
In Sales Transaction Entry, go to Extras >> Additional >> Lock/Unlock Freight Field (if Disable Freight Per Document was marked).
You will be asked to confirm if you want to lock, or unlock, the document.
The locks placed on a per-document basis will follow the document as it is transferred to other document types.