Non-Tracked Item Serial/Lot enables recording of serial/lot numbers for any type of inventory item—non-inventory items, non-tracked items (not serial/lot tracked), and any item-type on a drop-shipped line. This functionality allows tracking which customers received a specific serial number or lot number, without requiring use of serial/lot numbers in GP Inventory.
It also allows serial/lot numbers to be track on non-inventory items (item entered in SOP that do not exist in GP inventory).
Setup
Navigation: Tools >> Setup >> Company >> Setup GP PowerPack
Mark the box next to TWK-SOP: Non-Tracked Item Serial/Lot Entry*.
This item requires additional setup. Double-click on "TWK-SOP: Non-Tracked Item Serial/Lot Entry*" to open the Tweaks Setup window. Locate the SOP: Non-Tracked Serial/Lot section:

Mark "Require Drop-Ship Serial Numbers" or "Require Drop-Shop Lot Numbers" to have the system require serial/lot entry for serial/lot items that are drop-shipped. If these options are not marked the user can still manually open the Non-Tracked Item Serial/Lot Entry window as needed. Click SAVE when done.
Click DONE on the GP PowerPack Setup window.
The feature will be enabled for the current user. Other users must restart their Dynamics GP client to enable this feature.
Using Non-Tracked Serial/Lot Entry
From Sales Transaction Entry, select a line item, then go to Extras >> Additional >> Non-Tracked Item Serial/Lot.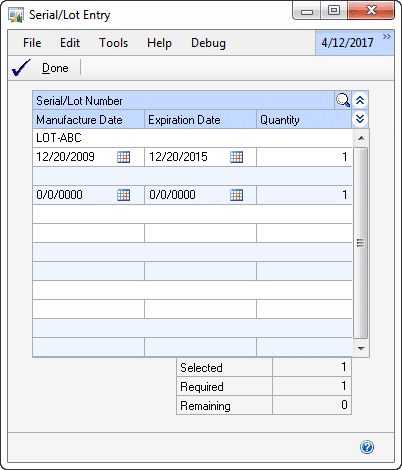 In the Serial/Lot Entry window, enter the serial or lot numbers. The Manufacture Date, Expiration Date, and Quantity fields are also available. The window will total the quantity, but does not require that the quantity entered match the Sales Line Quantity.
Serial/Lot numbers will print on the Sales Reports, such as an Order or an Invoice without changes to the existing reports.
Serial/Lot numbers also follow a document when transferred. Dynamics GP normally transfers serial/lot numbers from an Order to an Invoice, so that after the transfer, you are no longer able to view the serial/lot numbers that had been assigned to the order. The Non-Inventory Serial/Lot numbers follow the same logic, and are transferred to the Invoice, making them no longer visible on the Order.
Non-Inventory Serial/Lot also enables serial/lot tracking in the Sales Serial-Lot Number Inquiry window (Inquiry >> Sales >> Sales Serial/Lots). Any Item Number from a Sales Line, including non-inventory items, can be entered and traced through this window.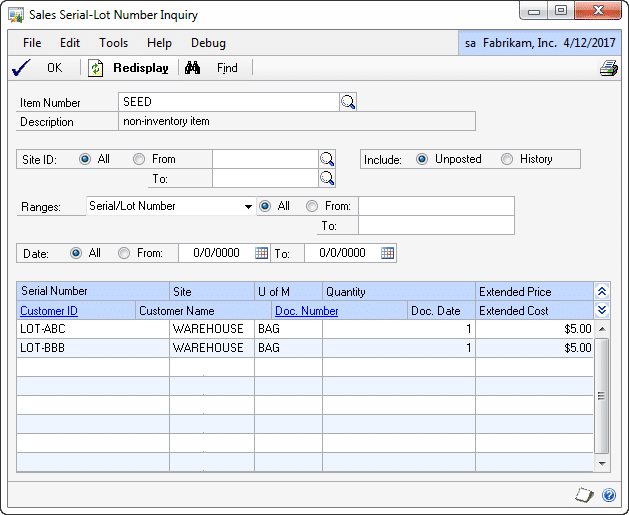 Inquiry showing Lot Numbers on the non-inventory item "SEED"