Print Mailing Labels directly from Sales Transaction Entry for the Customer Displayed on the window.
Setup
Navigation: Tools >> Setup >> Company >> Setup GP PowerPack
Mark the box next to TWK-SOP: Quick Print Mail Labels, then click DONE.
The feature will be enabled for the current user. Other users must restart their Dynamics GP client to enable this feature.
Creating a Mailing Label
Quick Print Mail Labels requires a Mailing Labels Report Option called AUTOPRINT.
Navigation: Reports >> Company >> Mailing Labels.
Select Report Type = Customer Labels
Click NEW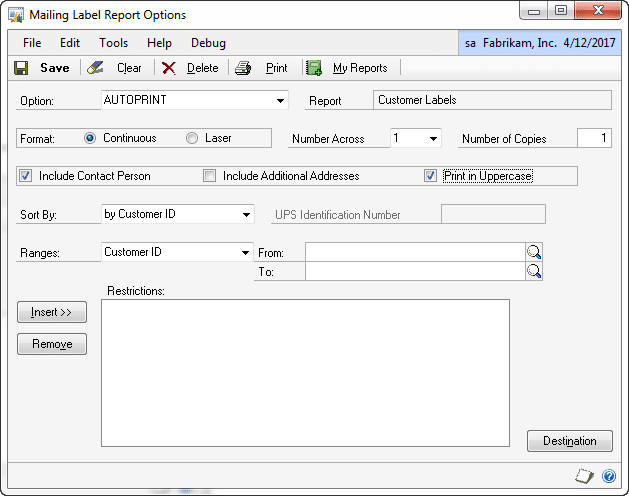 The Option Name must be AUTOPRINT (upper case).
Set the remaining options as needed for your environment, such as the Number Across and Number of Copies.
Do not create any Restrictions. When the report runs it will be set to print based on the Customer ID displayed on Sales Transaction Entry. Any Restrictions added in the Mailing Label Report Options window will be ignored.
Save the Report Option.
Using Quick Print Mail Labels
When a transaction is displayed in the Sales Transaction Entry window, select Extras >> Additional >> Print Mail Labels.