SO-PO Drop-Ship Item Cost from SO makes the Cost entered on the Sales Line appear as the Unit Cost for the Item in the Purchase Orders Preview window (the window that opens from Sales Transaction Entry >> Actions >> Purchase).
Without this Tweak GP will either default to $0, or if the Drop-Ship Item Number has been used before it will default to the last cost.
Setup
Navigation: Tools >> Setup >> Company >> Setup GP PowerPack
Mark the box next to TWK-SOP: SO-PO Drop-Ship Item Cost from SO
The feature will be enabled for the current user. Other users must restart their Dynamics GP client to enable this feature.
Using SO-PO Drop-Ship Item Cost from SO

Enter a Sales Line with a Drop-Ship Item, and enter the Unit Cost.
When finished, select Actions >> Purchase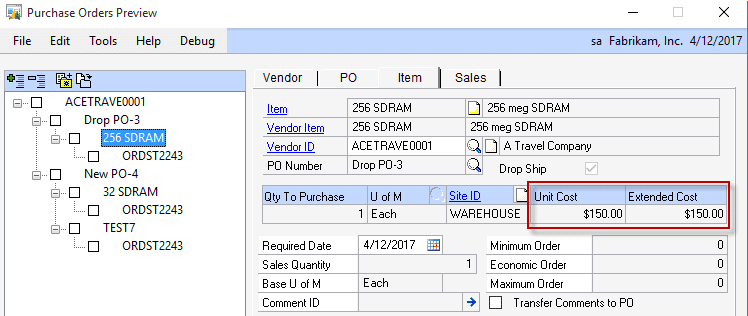 The cost from the Sales Line will become the Unit Cost in the PO Preview window. The Sales Line Cost will override Last Cost (if there is a previous PO for the same Item).
When this Tweak is enabled, the following fields will be locked: Qty To Purchase, U of M, Unit Cost, and Extended Cost.