When SmartList is resized by dragging a corner of the window, the Treeview expands as must as the Listview ("results"). SmartList Resize adds the ability to create system-level "default" sizes, as well as user-defined sizes, which resize the SmartList window to maximize the results pane while keeping the treeview company.
Setup
Navigation: Tools >> Setup >> Company >> Setup GP PowerPack
Mark the box next to TWK-SYS: SmartList Resize, then click DONE.
The feature will be enabled for the current user. Other users must restart their Dynamics GP client to enable this feature.
Using SmartList Resize
"SA" can define "System Sizes" which will be available to all users. All other users can define their own, user-specific sizes.
Navigation: SmartList >> Additional >> Define SmartList Size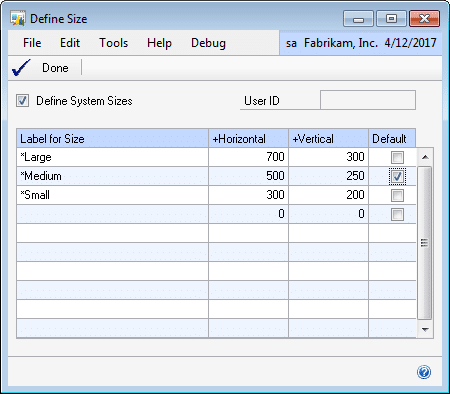 Only SA will be able to mark the Define System Sizes box. The Sizes will be added to the "Select Sizes" window (see below) in alphanumeric order, with the System Sizes being added first (at the top of the list). Use a special character, or naming convention, to help highlight System Sizes versus User Sizes.
Each Size definition can expand the Horizontal and/or Vertical dimensions of the window.
Marking a Size as "Default" will cause the SmartList window to automatically be resized when it opens. A User Size marked as Default will be used before a System default.
Navigation: SmartList >> Additional >> Select Size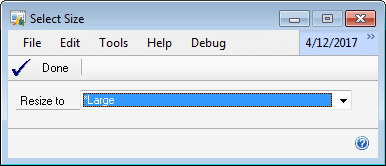 Select which size to use.

SmartList Resize will stretch the window to maximize the size of the results, while keeping the Treeview more compact.