Open the Bank Deposit Entry window (Transactions >> Financial >> Bank Deposits).
Open the Bank Deposit Filters window (Additional >> Advanced Filters)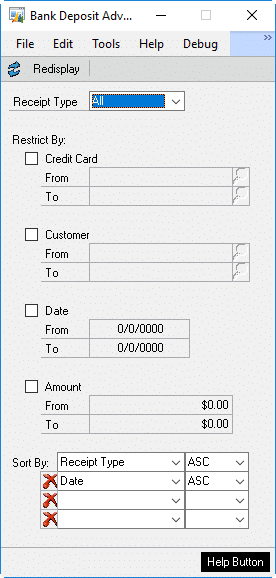 Restrictions
Credit Card: restrict the display by Credit Card Name. For example, see only charges for Visa or AMEX.
Customer: restrict the display by Customer ID.
Date: see only cash receipts that occurred on a particular date, or in a date range.
Amount: see only cash receipts for a specific amount, or within a range.
Sort By
Currency ID
Credit Card
Customer
Date
Amount
Receipt Number
Receipt Type
If you use a Restriction (such as Credit Card), it must also be one of the sorting options. The Filters window will try to set the Sorting options for you automatically, but you can change them as needed.
After making Restriction and sorting selections, click the Redisplay button.
Receipts can be marked for deposit, then you can change the filters and redisplay, then mark additional receipts for deposit.
Mark All can only be used once. If you change the filters and click Mark All again, the previous selections will be cleared, and the new documents marked. For example, if you select a range of deposit using the Credit Card called GOLD CREDIT, click Mark All, then change to the PLATINUM CREDIT Credit Card, and Mark All, the deposit will contain only the PLATINUM CREDIT payments.
The Title Bar of the Bank Deposit window will display the Transaction Description for any record selected in the Bank Deposit scrolling window: