BEFORE ENABLING THIS TWEAK, PLEASE READ THE STATEMENT BELOW- IT DESCRIBES WHY MICROSOFT RESTRICTED THIS FUNCTIONALITY.
In order to facilitate the matching of the inventory value in the Inventory module to the inventory value in the General Ledger module, a change was made beginning in Microsoft Dynamics GP 9.0 Service Pack 3 and Microsoft Dynamics GP 10.0 Service Pack 2. You can no longer edit the inventory account number in the Purchase Order Processing module. This change applies to summary level changes made in the Purchasing Distribution Entry window for the PURCH account type. This change also enables the Historical Inventory Trial Balance (HITB) report to balance.
If this activity were allowed, it could cause a situation where the inventory value in the Inventory module would not match the inventory value in the General Ledger module.
Enabling POP Receipt Distributions Override re-enables the ability to edit the PURCH account distribution on a PO Receipt. This was disabled in a Version 10 Service Pack.
This feature also adds the ability to re-create the Distributions with one distribution line per item received (Distributions per Line Item). If multiple items have the same Inventory Account, this feature will create one distribution line per line-item, so that each distribution line shows the dollar amount attributable to each Item Number received. It also adds the Item Number to the Reference field.
Setup
Navigation: Tools >> Setup >> Company >> Setup GP PowerPack
Mark the box next to TWK-POP: PURCH Distributions Override.
The feature will be enabled for the current user. Other users must restart their Dynamics GP client to enable this feature.
Using PURCH Distributions Override
From the Receivings Transaction Entry window, or Invoice Entry window, click the Distributions button.
In the Distributions window select a line you want to change and press CTRL + E (for "Edit"). This opens the selected line in the Purchasing Distribution line edit window. From here you can modify the selected line, make changes and insert it as a new line, or delete the selected line.
SAVE: saves changes to the current line, such as changing the account or amount.
INSERT: creates a new distribution line.
DELETE: deletes the selected line.
You must start by selecting a PURCH distribution line, before opening the Purchasing Distribution window shown above.
Editing the Distributions may temporarily create unbalanced distributions. When you click Save, Insert or Delete you may see the window shown below. If you see this message, click YES to continue past it.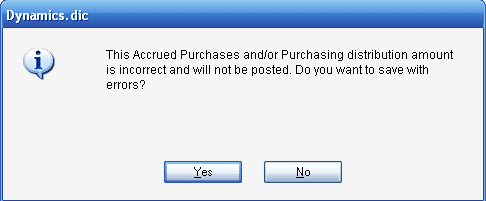 Distributions By Line
This Tweak also adds a new way to recalculate the distributions, Distributions By Line. This will create a PURCH distribution for each line-item on the PO Receipt using the inventory account assigned to the item.
Create Distributions by Line Item from the Purchasing Distribution Entry window by going to Additional >> Distributions by Line Item.
In the event that you make mistakes and the distributions are unbalanced, click the DEFAULT button to force GP to recalculate the distributions.