This Tweak is used when your sales fulfillment process includes multiple partial fulfillments (where some less-than-complete quantity is transferred from Order to Invoice) and you want to print a Packing Slip for each partial fulfillment that has a unique Packing Slip Number. Each time lines from the Order are transferred to Invoice the Packing Slip Number field will be cleared, and the "reprint" flag will be reset on the order. The Packing Slip Number stays on the Invoice.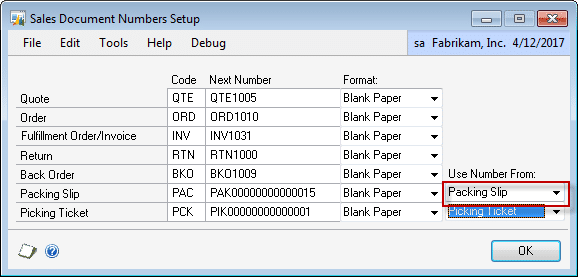 This Tweak should only be used if Sales Order Processing is setup to generate unique Packing Slip Numbers. See Tools >> Setup >> Sales >> Sales Order Processing >> "Numbers" button.
Setup
Navigation: Tools >> Setup >> Company >> Setup GP PowerPack
Mark the box next to TWK-SOP: Reset Packing Slip Num on Transfer, then click DONE.
The feature will be enabled for the current user. Other users must restart their Dynamics GP client to enable this feature.