Navigation: Transactions >> Inventory >> Stock Count Schedule
CompleteCount uses the Dynamics GP Stock Count Schedule window to create a stock count.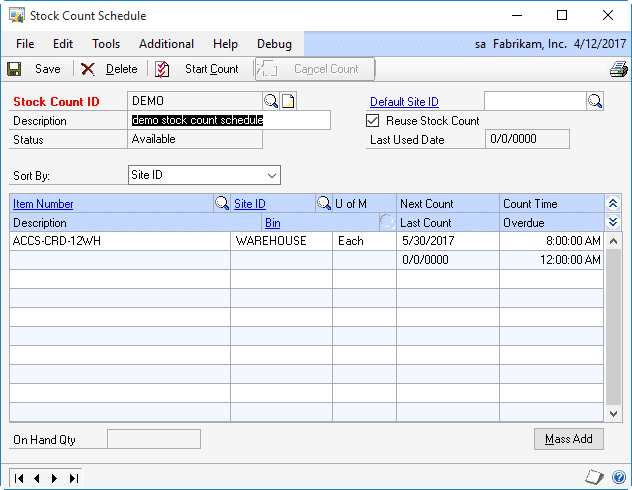 Items can be added manually to a Stock Count, but it is much quicker to use the Mass Add window. CompleteCount provides a new Mass Add utility that replaces the one normally available from the Stock Count Schedule window.
Click the Mass Add button.
Refer to the Mass Add/Update section of this document.
Blank Stock Count
CompleteCount can add new items to a stock count on-the-fly. This can be done with the Stock Tag Entry window, and through ExcelLink.
The GP Stock Count Schedule window requires at least one Item before it will allow Starting the count, and the Count must be Started before count information can be recorded in CompleteCount.
It is possible to start the count with just one Item on the count, then use Blank Tags, or Excel, to perform the count and let CompleteCount add items.
IMPORTANT
When CompleteCount adds Items to the Count, it records the "Captured Quantity" at the moment the Item is added to the Count. This is in contrast to when Items added to the Count Schedule, which have a Captured Quantity recorded when the count is started.
If Items are added on the fly, inventory must remain frozen until the count is recorded in CompleteCount. If Items were "started" on the count, inventory usage can resume as soon as the item has been counted.