Navigation: Cards >> Inventory >> Approved Vendors, or from Item Engineering, click the Approved Vendors Expansion button.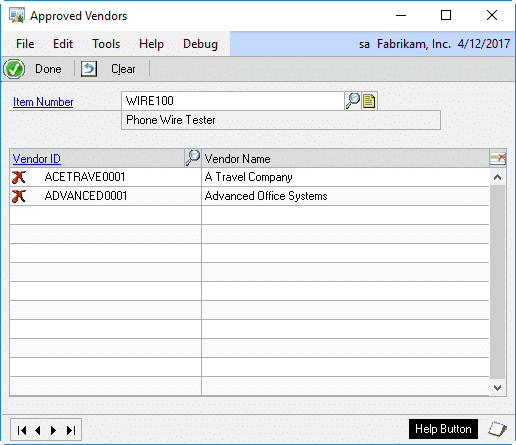 Use Approved Vendors to record the Vendor(s) approved to use for purchasing the selected item. This control is NOT enabled by default. To enable Approved Vendors see System Setup.
When enabled, Approved Vendors controls whether or not an Item can be purchased, and from which Vendor(s). If an item does not have ANY approved vendors, it will not be available when creating a Purchase Order. If the Approved Vendors list contains one or more Vendors for an Item, the system will only allow the item to be purchased from those Vendors. The appropriate Vendor-Item setup must also exist.
If an attempt is made to purchase an item from an unapproved Vendor, a warning message will be displayed, and the item number field will be cleared.