Navigation: Cards >> Inventory >> BOM Attachments.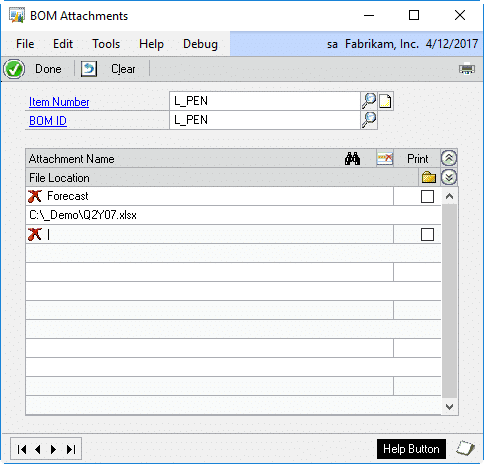 Attachment Name: provide a descriptive name for the file
Print Checkbox: When printing manufacturing documents, such as a Bill of Materials, any documents marked to Print on the BOM attachments will automatically print along with the Bill of Materials (or picklist). The BOM window also has a "Print Files" setting. This must be must be marked for any attachments to print.
File Location: if the cursor is in the File Location field, press CTRL+L to open a search window to locate and attach a file. Clicking the FOLDER also opens the lookup.
Binoculars: opens the file.
The following file types can be printed automatically:
PDF
DOC
DOCX
TXT
RTF
HTM
HTML
BMP
JPG
JPEG
GIF
TIF
TIFF
PNG