Navigation: Tools >> Setup >> Inventory >> CC Item Class Extension. This window is also available from the Additional Menu on Item Class Setup.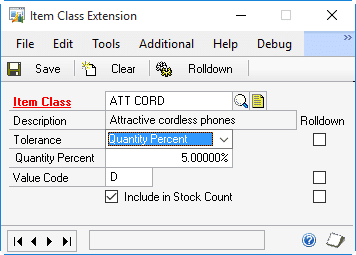 Values set on the Item Class can be rolled down to Items in that Class, and will be used as default values when an Item is assigned to a Class. See Item Extension.
The Tolerance, Tolerance Value (i.e. Quantity Percent), Value Code and Include in Stock Count settings can be rolled down to Items in the Class. To rolldown a setting, mark the Rolldown box next to the setting, then click the Rolldown button.
When a new Item is assigned to an Item Class, it will receive the CompleteCount Extension values from the Item Class. Changing the Item Class on an Item does not rolldown the values from the Item Class Extension window.
The Rolldown button provides several options for how the rolldown will run: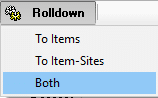 CompleteCount relies on the Item-Site level information when Tolerance is enabled. One method to ensure correct setup at the Item-Site level is to first rolldown settings from the Item Class to BOTH Items and Item-Sites, then use the Site Extension window, if necessary, to further modify the default values and push Tolerance settings down to all Items in the Site.