Navigation: Cards >> Inventory >> CC Site Extension. This window is also available from the Additional Menu on Site Maintenance.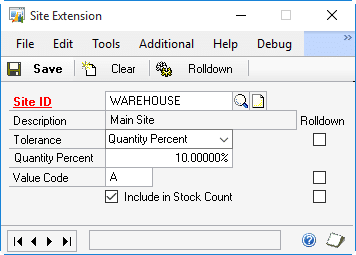 The Site Extension window works in a similar manner to the Item Class Extension in that it provides default values which can be rolled down to all Items assign to the Site. The Item Class Extension window rolls-down its values to the Item (i.e. the Item Extension window).
To roll-down a setting, mark the Rolldown checkbox next to the setting, then click the Rolldown button.