Navigation: Cards >> Inventory >> CC Item Extension. This window is also available from the Additional Menu on Item Maintenance.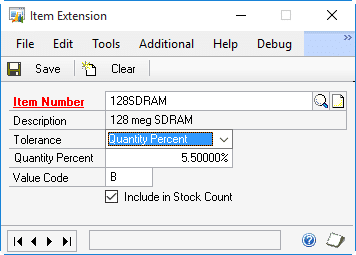 The "Include In Stock Count" setting on the Item affects whether or not the Item can be included on Stock Counts. If this is unmarked the Item cannot be added to a Stock Count using the Mass Add window (the Item could still be added manually).
Value Code can be used by the Mass Add/Update window to set the Next Count Date and Count Interval, and to add the Item to a Stock Count.
When a new Item is created and assigned to an Item Class, it will receive the CompleteCount Extension settings from the Item Class. Changing the Item Class will not rolldown the Extension values from the new Item Class.