Navigation: Transactions >> Inventory >> Entry Stock Tags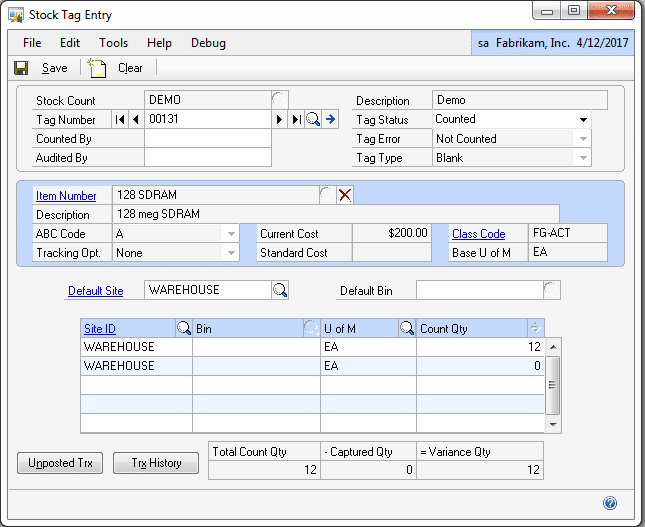 Stock Count ID – Select or enter the Stock Count ID. Tags can be entered on multiple computers at the same time. However, if the Stock Count is being edited in the Tag Submission Wizard or the Stock Count Schedule window you will not be able to select the Stock Count ID.
Tag Number – use the scrolling buttons to select a tag, manually enter the Tag Number, or select a Tag from the lookup. The system will automatically fill in the leading zeros. If the Tag Number is "0000075", you can enter just "75". To find a tag by Item Number, click the Lookup button, then change the sort order on the Lookup window to Item Number.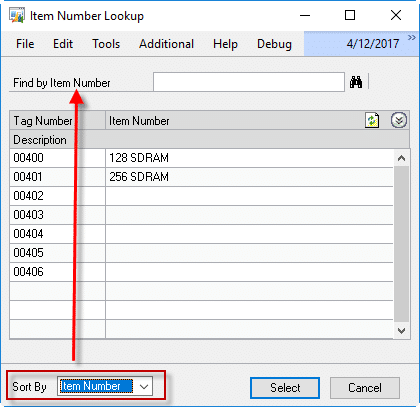 Tag User-Defined Fields – click the expansion button to the right of Tag Number to open the Tag User Defined Entry window.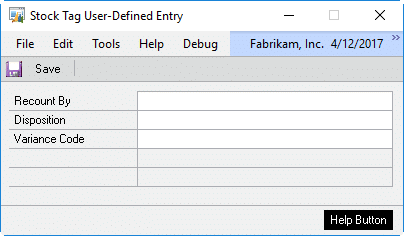 Tag Status – when the first count quantity is entered the system will set the Tag Status to Counted. This field is editable, and can be changed at any time. When Submitting the Stock Tags, the system will require that all Tags have a status other than New, and only Counted or Recounted tags will be included in the Submission. All other tags are ignored during Submission.
Item Number – Assigned tags will already have an Item and Site assigned, which cannot be changed. For Blank Tags, select the Item Number counted on the Tag. After selecting the item number and entering count information, the Item Number field locks to prevent accidental change. If the incorrect item number was selected, click the "delete" button (red X) to the right of the Item Number field. Changing the Item Number will result in deleting any count information that was already entered for that tag.
Default Site – Assigned tags have the Default site assigned. For Blank Tags, enter a default site. This site will auto-populate in the scrolling window to speed data entry.
Default Bin – in a multi-bin environment, with Assigned tags, this may already be set depending on the Sorting Options selected during printing. If multi-bins is not enabled, this field is available, but is for reference use only.
Scrolling Window – If the Default Site (and Bin, if appropriate) are populated, click directly into the Count Quantity field (the other fields will populate by default). For Serial/Lot controlled items, click the Count Qty expansion button (blue arrow) to open the Serial/Lot Entry window.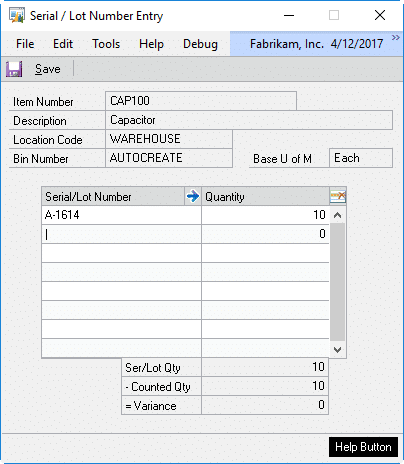 Enter the Serial or Lot Number, and quantity counted. For Serial Numbers the quantity always defaults to 1.
Enter/Edit Lot Attributes by clicking the Serial/Lot Number expansion button (blue arrow).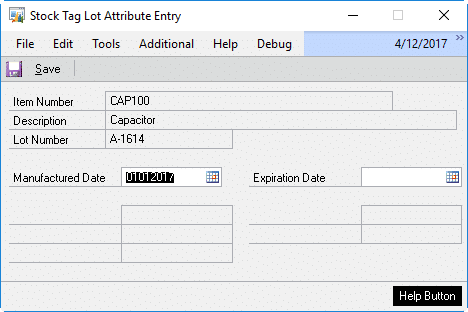 If the Lot Number is new (does not exist in GP), the Stock Tag Lot Attribute Entry window will open. The information entered here will be used to create a new Lot Attribute record in GP when the Tags are Submitted.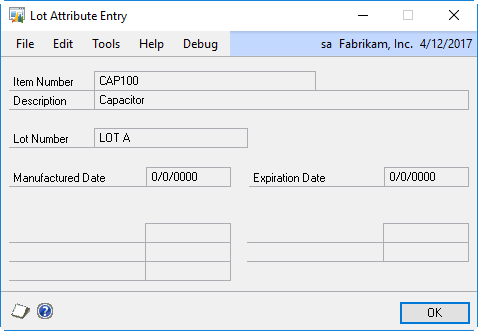 If the Lot Number already exists in GP, the Lot Attribute Entry window will open.