System Setup
The installer will create a Security Task called EZIMPORT, which contains access to all windows in EZImport. It will also create a Security Role called EZIMPORT, and the Task will be assigned to the Role.
You can grant users access to the windows in EZImport by assigning the EZIMPORT Task to a User's existing Role, or by assigning the EZIMPORT Role to a user.
Do not modify the Security Task. It will be re-created each time an update is installed for EZImport, and any changes will be overwritten.
Sales Setup
EZImport adds several additional user-defined fields for Sales Transactions to capture legacy information. The Sales Setup window is used to create labels for those fields which will appear on the User Defined window.
Navigation: Tools >> Setup >> Sales >> EZImport SOP Setup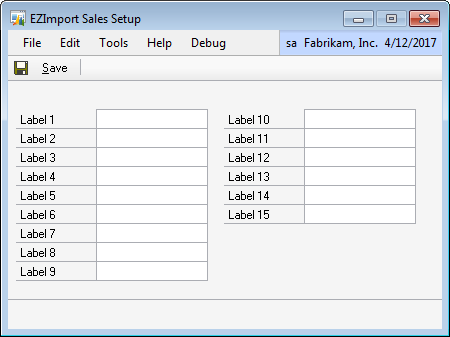 Enter labels for the User Defined Fields, then click SAVE.