Navigation: Tools >> Utilities >> Manufacturing >> Preactor Integration Import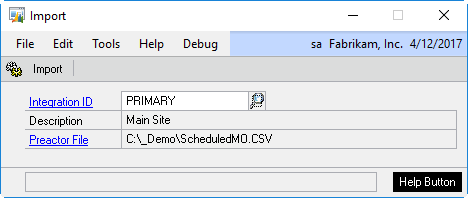 Integration ID: enter or select the Integration ID.
Preactor File: displays the file name and path to the file exported from Preactor (the updated scheduling information that will be imported into Dynamics GP). If this path is empty the Import cannot proceed.
IMPORT: click the import button to import the updated schedule. You will be prompted to confirm you are ready to run the import.
Click the "Preactor File" zoom to open the import file in Excel.
The CSV file exported from Preactor should have the following columns, in order:
Manufacture Order Number
Routing Sequence Number
Setup Start Date/Time (use local format, such as 20121225 09:12:00)
Sequence Start Date/Time (use local format)
Sequence End Date/Time (use local format)
Resource ID (not used by Preactor Integration)
Work Center ID