Navigation: Tools >> Setup >> Manufacturing >> MFG PowerPack Setup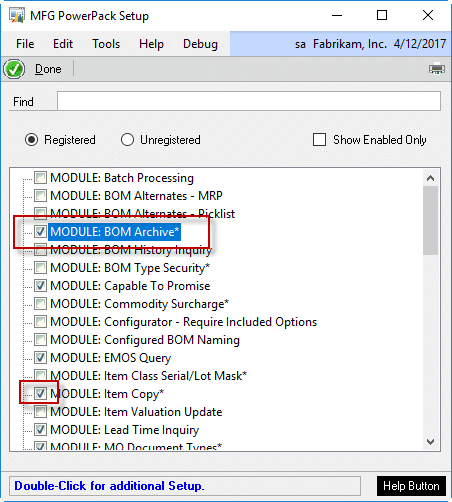 The Setup Options are grouped by MODULEs and TWEAKs.
The options displayed in this window are controlled by your registration key. The Registered view shows the modules that registered and can be enabled in the system. The Unregistered view shows the modules that are NOT registered and cannot be activated. Most of the Modules and Tweaks require GP Manufacturing, some require Field Service, and a few do not require either. The Setup window will check if Manufacturing and Field Service are installed and will not show Modules or Tweaks if they require those modules.
If you do not see any Registered options, make sure the registration key has been loaded. The Registration Key provides access to a module but does not automatically enable it. As noted above, a Module or Tweak might also not appear, even with the Suite license, if you do not have Manufacturing (or Field Service) installed and the Module or Tweak requires Manufacturing or Field Service.
Use the Setup window to turn specific features on or off per company database.
The Suite License for MFG PowerPack provides access to all Module and Tweaks but does not enable them. The Setup window is used to selectively enable/disable specific options. Even though your registration key provides access to all functionality, you must still enable a Module or Tweak before it is active in GP.
To enable a Module or Tweak, mark the box next to it (in the area shown with the small red box). The changes will be activated (or deactivated) for the current user (you) as soon as you close the MFG PowerPack Setup window. Other users will need to close GP and log-in again to activate the changes.
Enabling a Module will add menu navigation to the item, and activate other functionality required for the selected module.
If the Module has an asterisk after the module name (such as "Item Class SN Mask*"), there is additional setup required. Double-click the module name to open the setup window (i.e. double click on "Item Class SN Mask*" in the area shown with the red box).
Each module is described in detail in the following sections.
FIND: the Find box performs a 'contains' search on the Setup Options. For example, entering MO, will restrict the list of options to show only those containing "mo". To use the Find box, enter one or more characters or words, then press the TAB key.
PRINT: the list of currently displayed Setup Options can be sent to a Report, or to a Text Box. If you use the Text Box option you will be able to copy-and-paste from the text box into another application, such as an email.